NP1 HID lights feature high efficiency 35 W ballasts with magnetic switch, high efficiency reflector and built-in handle designed for smooth transportation. NP1 searchlights can be mounted on tripods. Fitted with optional green filters, they are ideal for bright field particle inspection of large areas such as floors, windows, ambient air. Available with soft (CP-35NP1) or hard case.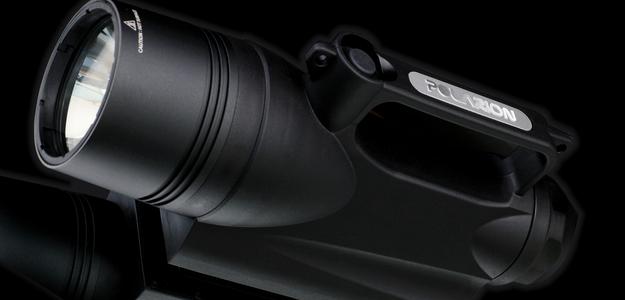 The Polarion NP1- 35-watt HID portable searchlight with integrated handle
PH40/PF40 is a high-quality tool for professionals who need massive, clean, light output in a truly portable package. Pound for pound, this is one of the most powerful and streamlined HID searchlights in its class. It delivers 3500 lumens at 4300 K and can illuminate a target 1 km away!
Polarion has developed an industry leading, streamlined ballast that gives this light its small footprint and light weight.
NP1 uses a robust water-proof push button switch.
The cartridge style-battery is easily replaceable and can be fully charged in 3 hours.
NP1 Specification

| | |
| --- | --- |
| Lamp Type | Xenon HID Lamp |
| Lamp Power | 35 W |
| Lamp Life | Up to 2500 hrs |
| Color Temperature | 4300 K |
| Power | 3400 lumens |
| Throw | 1.2 km |
| Input Voltage | 10-18 V DC |
| Operating Current | 4.0 A |
| Weight (w/o battery) | 1.48 kg |
| Battery Type | Li-ion |
| Battery Capacity | 5,200 mAh |
| Run Time | up to 90 mins |
| Weight | 470 g |
| Input Voltage | 100-240 V AC |
| Charging Time | 3 hrs |