The X1 HID light is the newest product released by Polarion. X1 is smaller than the PH/PF series. It is only 25 cm long, but gives off an amazing 3,400 lumens of light with a 100-minute run time.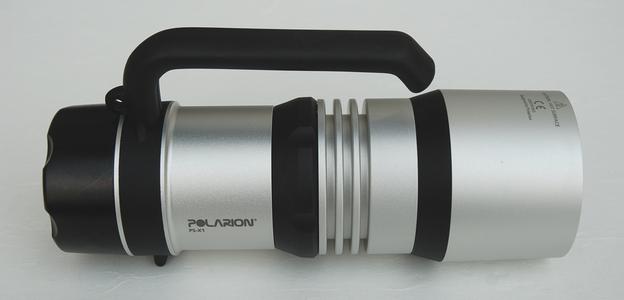 The Polarion X1- 35-watt HID portable searchlight with integrated handle
X1 is a high-quality tool for professionals who need massive, clean, light output in a truly portable package. X1 uses a robust water-proof rotary magnetic switch and custom small profile ballast.
The cartridge style-battery is easily replaceable and can be fully charged in 3 hours.
Every time the X1 is switched ON, the LEDs on the rear of battery will stay illuminated for 5 seconds, letting you know how much power is left in the battery.
The rechargeable Li-ion battery does not suffer from charging memory or over-charging as the charger system automatically regulates the charging cycle.
X1 Specification
| | |
| --- | --- |
| Lamp Type | Xenon HID Lamp |
| Lamp Power | 35 W |
| Lamp Life | Up to 3000 hrs |
| Color Temperature | 4300 K |
| Throw | 1.2 km |
| Input Voltage | 10-18 V DC |
| Operating Current | 3.5 A |
| Weight (w/o battery) | 1.21 kg |
| Battery Type | Li-ion |
| Battery Capacity | 5,700 mAh |
| Run Time | up to 90 mins |
| Battery weight | 460 g |
| Input Voltage | 100-240 V AC |
| Charging Time | 3 hrs |